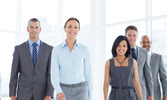 The Effective Office

The Virtual Course will be offered over one day with the daily meeting running five hours with normal breaks.

The virtual seminar will include everything covered at the in-person workshop. It will be live on ZOOM so participants can fully participate and engage with the faculty and other participants. There will also be clips from in-person sessions where appropriate.
Comprehensive Courseware Package

You will receive all the course materials in advance and will also receive your Certificate of Achievement and 0.7 CEU's
Please note, when registering be sure to use your preferred mailing address on the shipping page. Late registrants can still receive PDF materials at anytime.

Management and Leadership Skills for New Managers and Supervisors
ONE DAY - Virtual Session