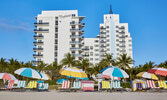 The 2019 World Class Administrative Professionals Course
Inclusive Package: Includes course, meals*, refreshments, and courseware.
The Hyatt Confidante Miami Beach
Miami's mid-century age ushered in stunning Art Deco architecture, eclectic eateries, and a charm that still animates the city. The beautiful Hyatt Confidante captures this charm. With direct beach access, open-air spas and salons, heated poolside lounges and several restaurants. On your free time soak up then sun, then grab a little shade in a colorful cabana, pamper yourself with a visit to the spa, which offers massages and facials or just make yourself at home in your individually decorated guestrooms, featuring minibar and flat-screen television. The Miami Beach Boardwalk is right outside the resort's doors and stretches all the way to South Beach perfect for strolling or bicycling. All of this makes Hyatt Confidante an ideal setting for the world-class program.
* The meal package includes breakfast each day, a reception on day one, luncheon on day two and refreshments throughout the course.
MIAMI BEACH, FL - November 13th - 16th, 2019
THE WORLD CLASS ADMINISTRATIVE PROFESSIONAL COURSE
The Hyatt Confidante Miami Beach